Luxury Lofts, Beautiful Bathrooms
We often find that the bathroom, however compact and bijoux, is often the piece de resistance of the loft conversions we do.
The main room of the loft conversion is always gorgeous, of course, but corners aren't cut when it comes to the bathroom, shower room or ensuite.
Well, we say that 'corners aren't cut' but sometimes they literally are – because we have to make things fit and there are usually sloping ceiling to contend with. But attention to detail, style and a luxury feel are not compromised in the bathrooms we design and fit.
Here are a few of our favourite bathrooms, shower room and ensuites from the past few years of Jon Pritchard loft conversions.
Showstopping Shower Rooms
Loft Shower  #1
Loft Shower  #2
Loft Shower  #3
A very similar layout to Loft Shower #2 above, this time with a wetroom shower instead of large shower tray.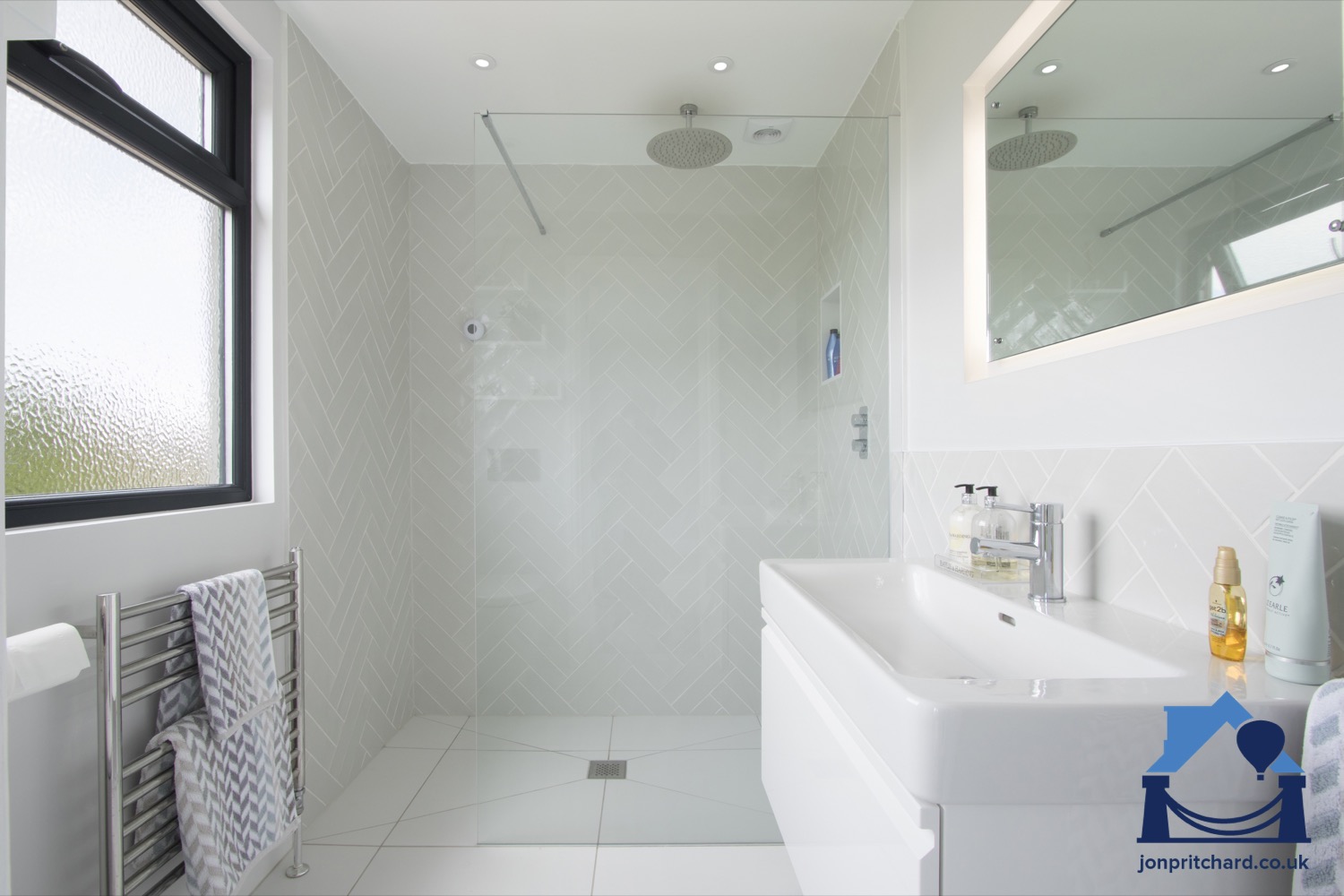 Loft Shower  #4
Loft Conversion Blissful Bathrooms
Loft Bathroom  #1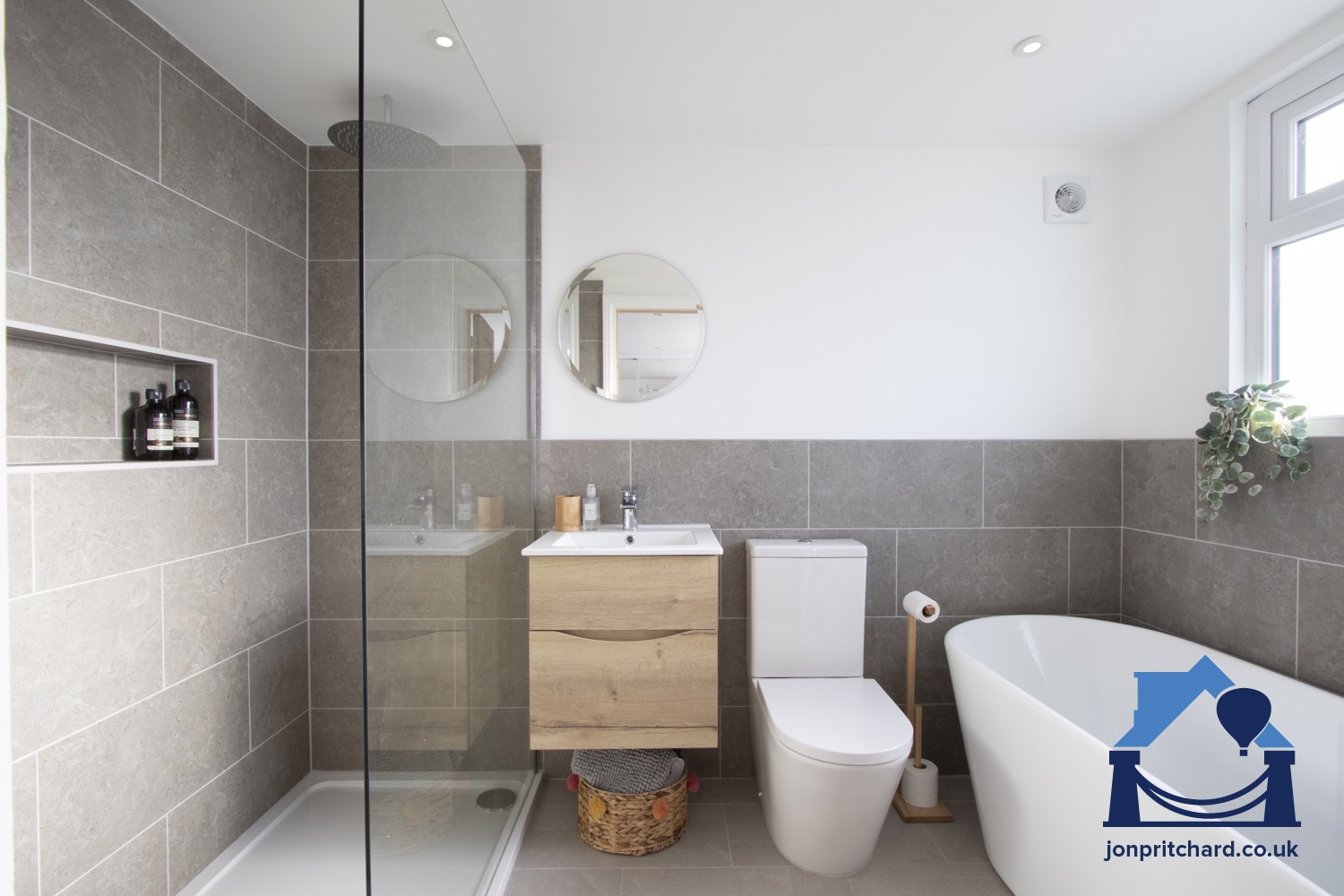 The choice of large natural coloured tile makes for a calm feeling in this full loft conversion bathroom. The floating basin unit also adds to the feeling of lightness and space.
Again a walk-in double-width shower with fixed screen and large rainwater head. This gorgeous loft bathroom also features a freestanding curved-ended bath with complementing curved freestanding tap.
Loft Bathroom  #2
The freestanding bath is a very popular choice, and they come in a huge variety of sizes and styles to suit every aesthetic.
This pistachio Velux window lit bathroom fits neatly under the eaves of this Victorian loft conversion. The more classic choice of bathroomware and tapware reflect the owner's desire to fit the house out keeping the period nature of the property in mind, without compromising on modernity.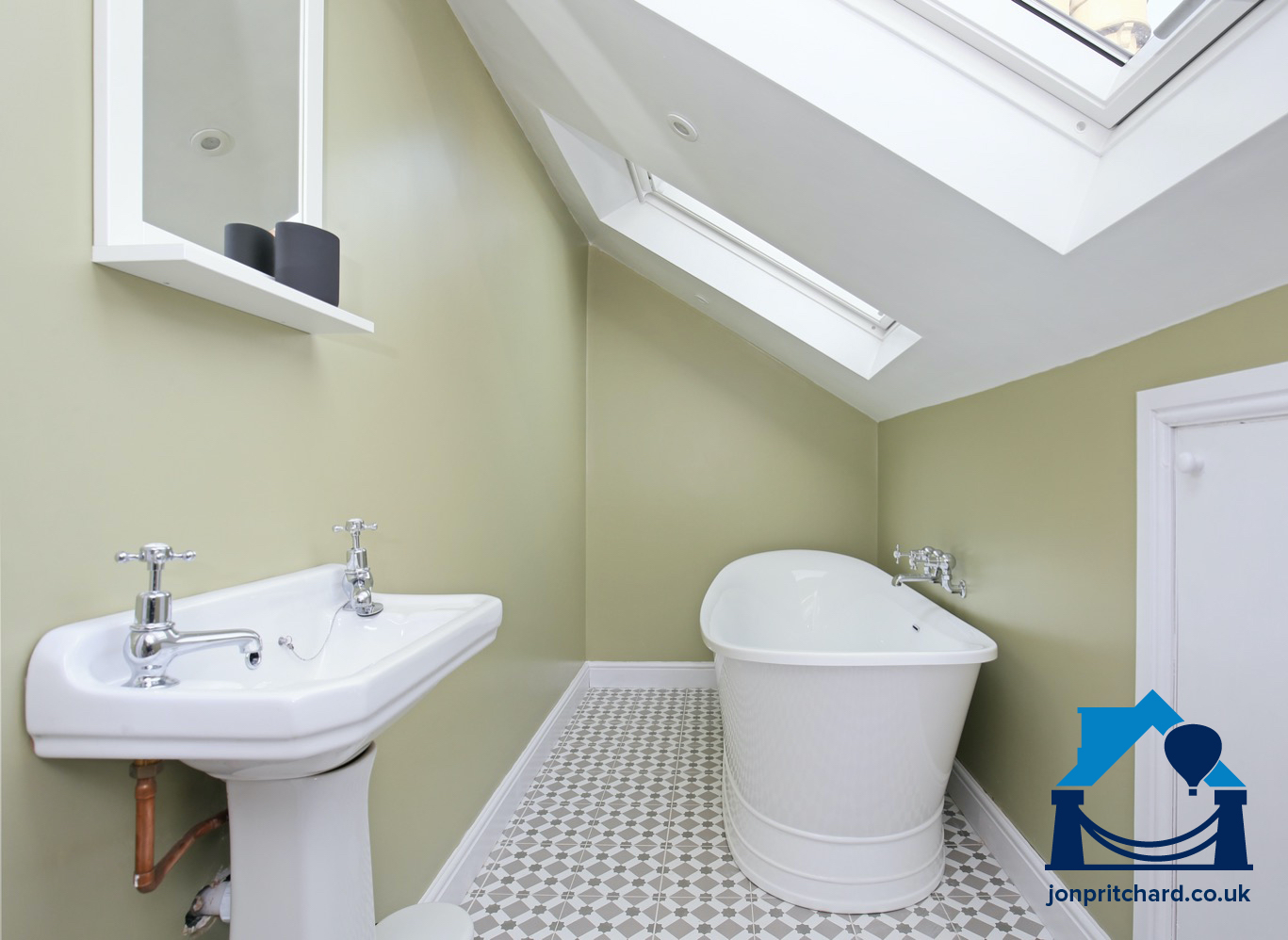 Loft Bathroom  #3
This time the full length bath fits neatly built in across the width of this loft bathroom, under the window.  The white tiling instead of a fabricated bath panel makes the bath really feel like part of the structure, complementing the blue tile surround and the corner shower.  A cohesive, classic loft bathroom with a contemporary twist.
Hop over to our Bathrooms gallery to see more Jon Pritchard loft conversions bathrooms, shower rooms and ensuites.
If you're thinking about how to design the bathroom for your loft conversion, you might also enjoy:
Jon Pritchard Bathrooms – Delivered to your Door
Five Tips for Choosing and Laying Tiles
Chic, Petite, Ensuite (a focus on terraced loft conversion bathrooms)
Why you should make your loft conversion bathroom a wetroom