Why you should make your loft bathroom a wet room
Home improvements, such as loft conversions, are usually about two things – improving your living space for yourself here, now, and adding value to your home. Making the most of the budget you have available for improvements is really important.
When you're considering a bathroom makeover, or adding a second bathroom or en-suite, think about adding either a wet room area to your bathroom, or turning the whole room into a wet room for a luxury bathroom look.
What is a wet room?
A wet room is a fully waterproofed , 'sealed' bath or shower room. The walls and floors are 'tanked' – sealed with waterproof boards and associated materials, which stops water from seeping out. The floor would usually slope towards a drain.
Any kind of bathroom can be turned into a wetroom. They are ideal in smaller bathroom spaces, particularly loft conversion bathrooms where you may only have room for a shower. You can also add a wetroom area within a larger bathroom.
Why have a wet room?
Space
A wet room's open design will make your space look and feel much bigger. There is no need for a bulky shower tray or unit, or even doors, meaning you can make the most of any available space – ideal in loft conversions and smaller extensions.
It's not just about making the most of horizontal space – with no shower tray you have more head height, something that is really at a premium in loft conversion bathrooms that need to fit into the smaller space left after bedrooms, studies etc have been allowed for. A small wet room shower room really is the best solution to create a chic, practical room when space is at a premium. Tiles can be easily cut to fit unusual spaces, and you can use you creativity to add ledges, shelves and even seats in your wet room.
Simplicity
Cleaning a wet room is much more straightforward too – the whole thing can be treated in the same way, and there are usually fewer awkward nooks and crannies.
Value
Wet rooms bring luxury spas and top class hotels to mind. They can look very stylish and really add a 'wow' factor to your home – and more value when it comes time to sell.
The minimal look and feel creates a refreshing, open-air feeling – especially in a loft conversion when combined with Velux roof windows that bring in lots of natural light. Even a small shower room looks more spacious as a wet room.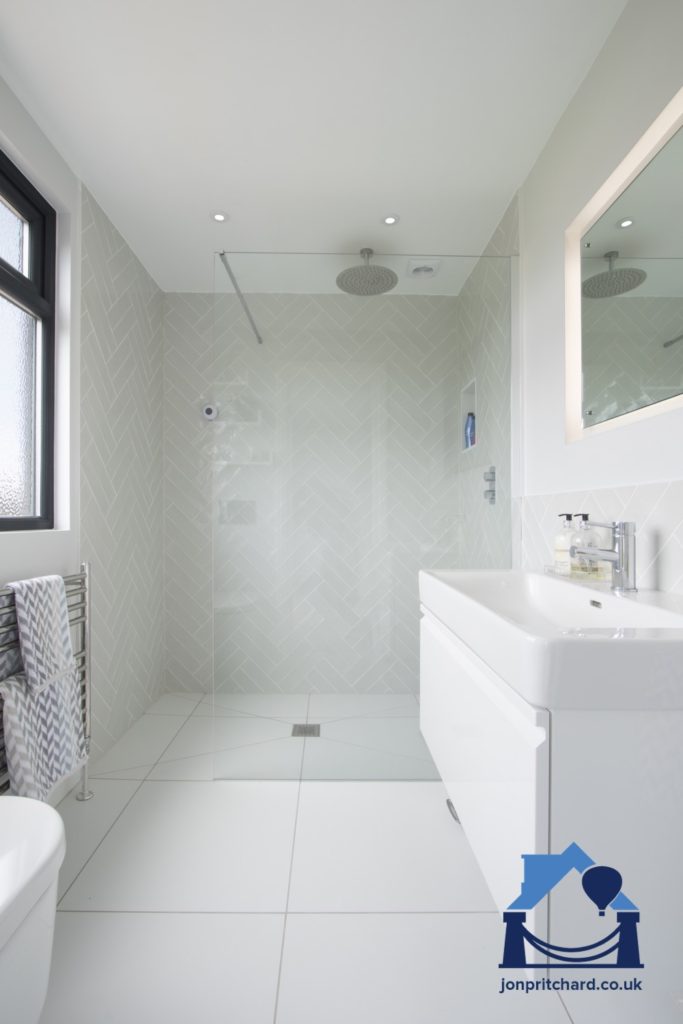 What's the cost of a wet room?
Wet rooms are more affordable than you might think, and it's worth weighing up any extra cost over and above a standard bath or shower room with the added pleasure you will get from it, along with the added value to your house price.
With Jon Pritchard lofts you can achieve a wet room shower from from around £3500, including bathroom suite, tiles and installation.
Things to consider when designing your wet room
Shower screen
In larger rooms you may not need a shower screen, but in smaller rooms they do help to keep the rest of the room dry. A simple fixed glass screen for your walk-in shower is all you need.
Ventilation
As with any bathroom, to ensure mould and mildew don't form you need to ensure there is good ventilation. An operating window as well as a good extractor fan is recommended.
Tile choice
Due to the natural porous qualities of stone tiles, some are not appropriate for wet rooms. However there are plenty of stone tiles that you can use – just check before you buy that the tile you like can be used in a wet room.
Planning a loft conversion? For more information and advice on installing a wet room in your loft bathroom, get in touch with Jon Pritchard Ltd. We can also provide your bathroom suite at very competitive prices.
READ MORE!
If you enjoyed this article, you might also like