A place for everything – built-in storage in your Loft Conversion
Lofts can have some interesting ceiling slopes, nooks and crannies – you might wonder what you can do with them and how best to incorporate them into your loft design. The answer – storage!
Jon Pritchard can help you with ideas and expertise to create built-in wardrobes, cupboards, shelves, handy recesses and other custom storage for your new living space.
Start with what you need and want. Think about the kinds of rooms you're going to create, what you will do in them – will you be reading in the bath, enjoying a drink in the top floor living room, studying in the office?
Don't worry about where your built-in cupboards and shelves might fit, what they might look like just yet, simply start with what you'd ideally like. At your first design meeting let your designer know your thoughts so that they have it in mind from the get go. There are all sorts of ways to use the spaces in lofts, or to create space for storage.
A dressing room
Jon Pritchard's builders and carpenters will help you create the custom storage you need in the space you have.
Book shelves and a built-in-wardrobe
This student hideaway included a fixed bed head to create a subtle and practical divide between the bedroom and study area behind. Built-in shelves use the space in a practical and attractive way.
Opposite the shelving, Jon Pritchard created a built-in wardrobe.
More built-in wardrobes
In this home, the loft includes a double bedroom with ensuite. A passage from the bedroom, past the ensuite to the landing, was created with full sized built-in wardrobes all along.
A dressing room and ensuite.
Here our designer created a custom built-in wardrobe space with cupboards facing each other either side of the VELUX window.
Three heights, three uses.
Custom-fit doors for your space.
A simple solution
The owner of this rental property chose to include simple, full-height built-in cupboards. Features like storage are important in the rental market and can help attract good tenants.
No space wasted – Smaller eaves storage
Even if you don't want full-sized wardrobes or book shelves, your eaves space comes in handy for hiding away Christmas decorations, suitcases and sleeping bags until they're needed. Simple, symmetrical doors make access easy and attractive. We insulate the space, and the rear of the doors, to ensure you stay warm.
Nooks and crannies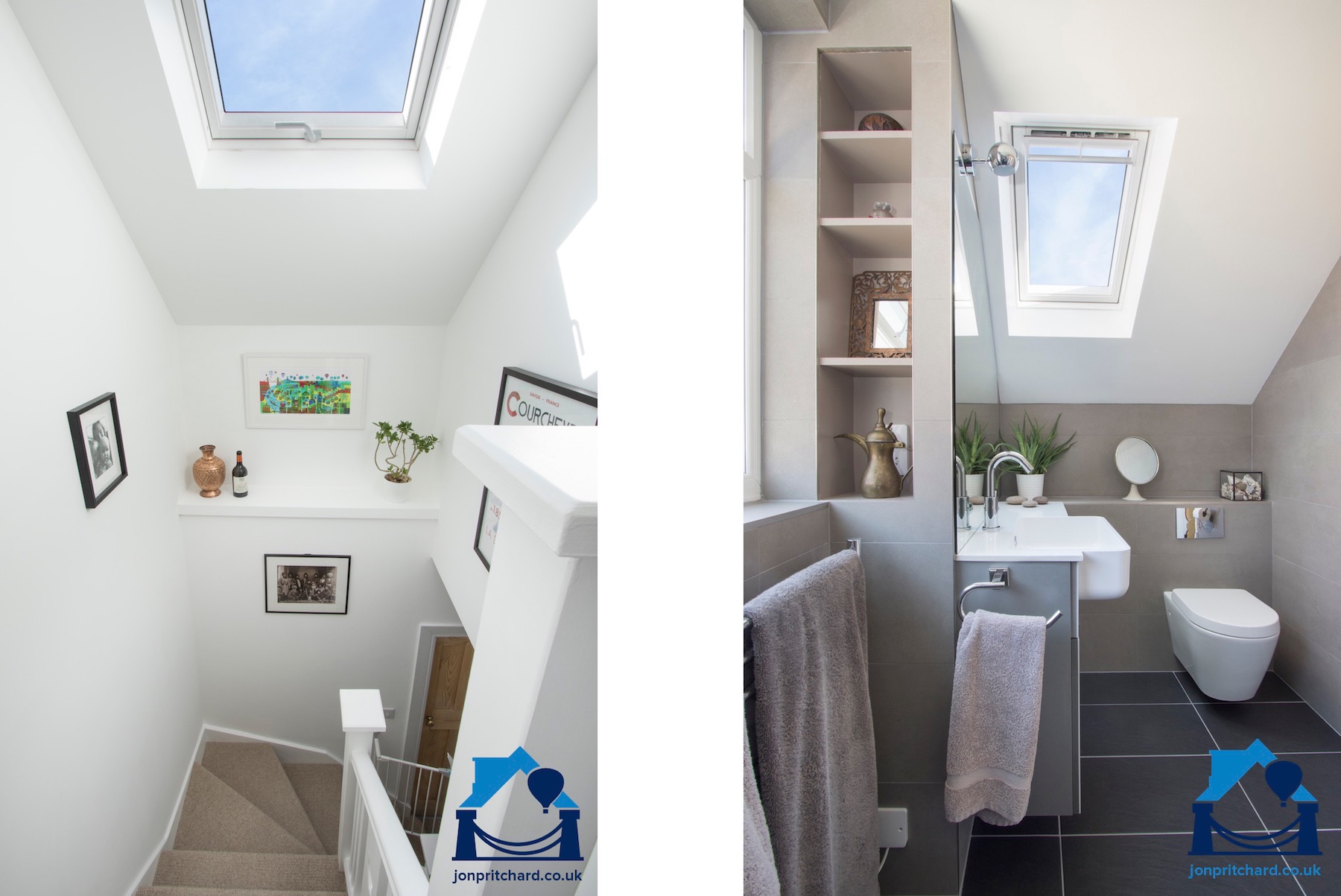 A shelf in the stairwell, recessed display spaces and handy shelves in the bathroom create some custom storage and creatively use every space available.
For more ideas you might like to visit us on Pinterest, or read this article from Houzz.co.uk
If you'd like to find out more about having your loft converted by Jon Pritchard in Bristol, please Contact Us today.