Our favourites from 2018
We regularly photograph the loft conversions we complete. Not every project by any means – but we like to keep our gallery up to date and show potential clients projects we've recently completed.
In 2018 we completed more than 80 Bristol loft conversions.
Of those we photographed, these are some of our favourite shots.
Hung Tile Dormer
Bristol has lots of 1930s semi detached and detached homes with hung tile features, often on curved bays at the front of the property. Choosing a hung tile finish on the dormer(s) of your loft conversion mirrors this feature and keeps the conversion in keeping with the style of the house.
Our customers installed a popular juliet balcony at the rear, with a rail-less finish. The wooden doors give a chic look, and added floor-to-ceiling side windows bring in extra light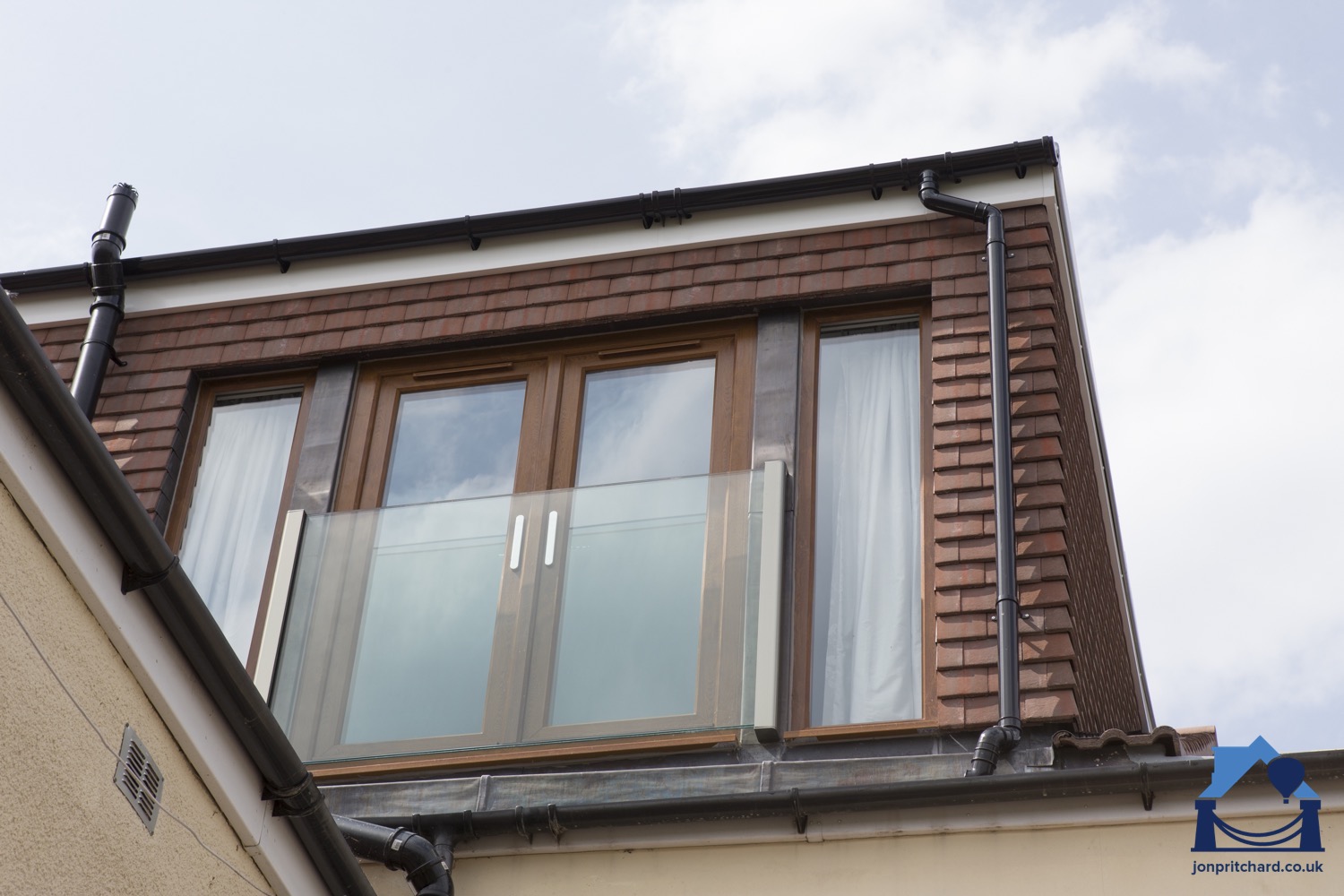 Dividing wall to create a dressing room
Our carpenters are experienced building built-in wardrobes for customers, often using the slope to great effect. We loved this design where a simple dividing wall created a 'his and hers' dressing room. By clever positioning of their furniture the owners of this semi-detached home were able to keep the dressing room door-less for an open feel, and so that the whole room benefits from the Velux window in the slope.
Calm and stylish…
and a breath of fresh air…
Read more about this top floor living room loft conversion, with ensuite, in our 'case study' interview.
Rendered dormer with balcony
This semi-detached loft conversion included a flat-roofed dormer with balcony at the rear, and a gabled dormer on the side. The cream rendering on both, along with careful window choices and the right plumbing means the new dormers merge seamlessly with the existing property.
For us this is what our work is about. Not just extending your home into the loft, but making your new loft floor an integrated, seamless part of your property. That and ensuring it all goes as smoothly as possible, of course!
Bold colours for a practical student room
We loved how our customers finished the conversion in their terraced home. This study-bedroom utilises alcoves for shelving on one side and built-in wardrobes on the other. It includes a fixed bed-head as a clever and simple divider for a study area.  It also features a shower ensuite to create the perfect student digs!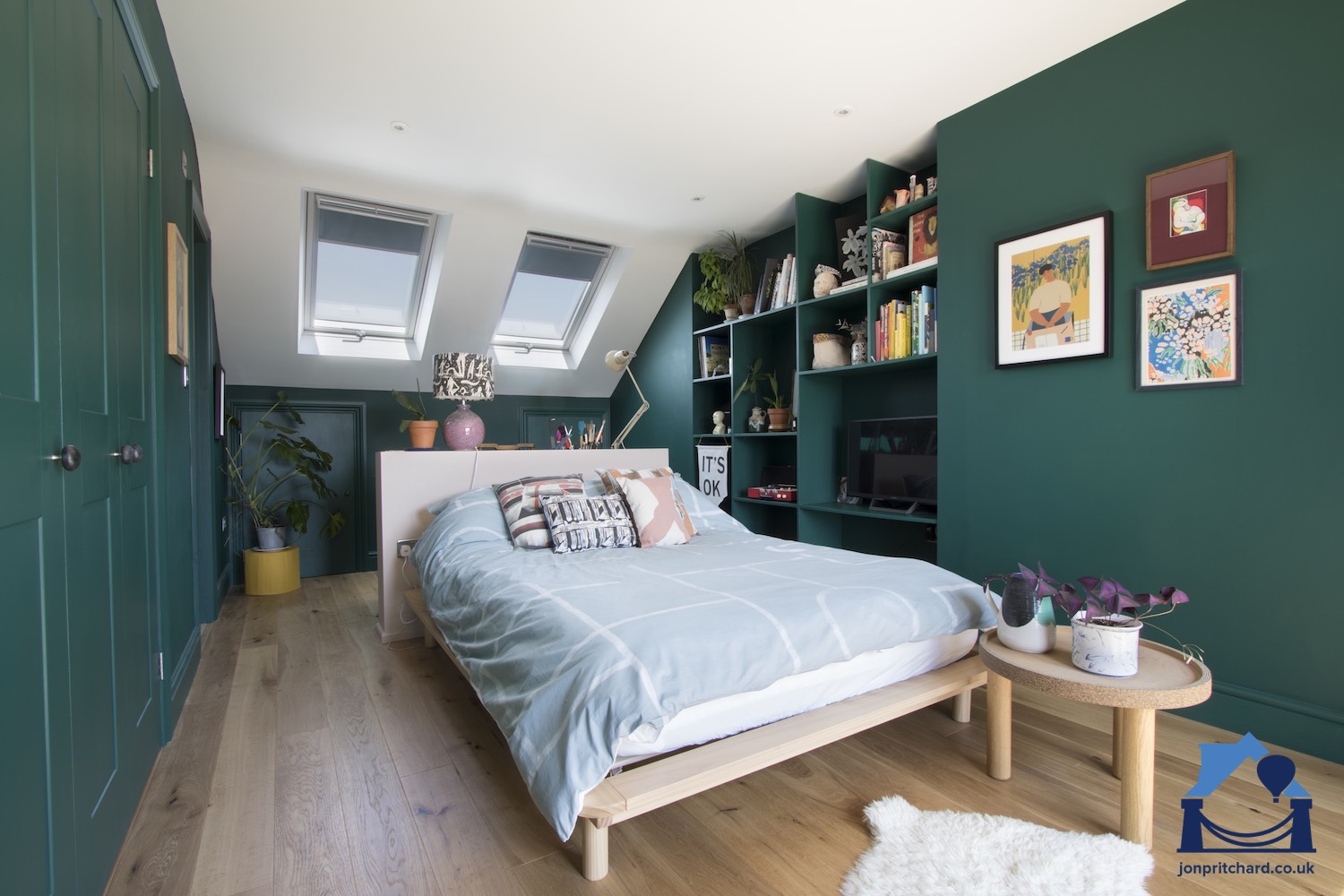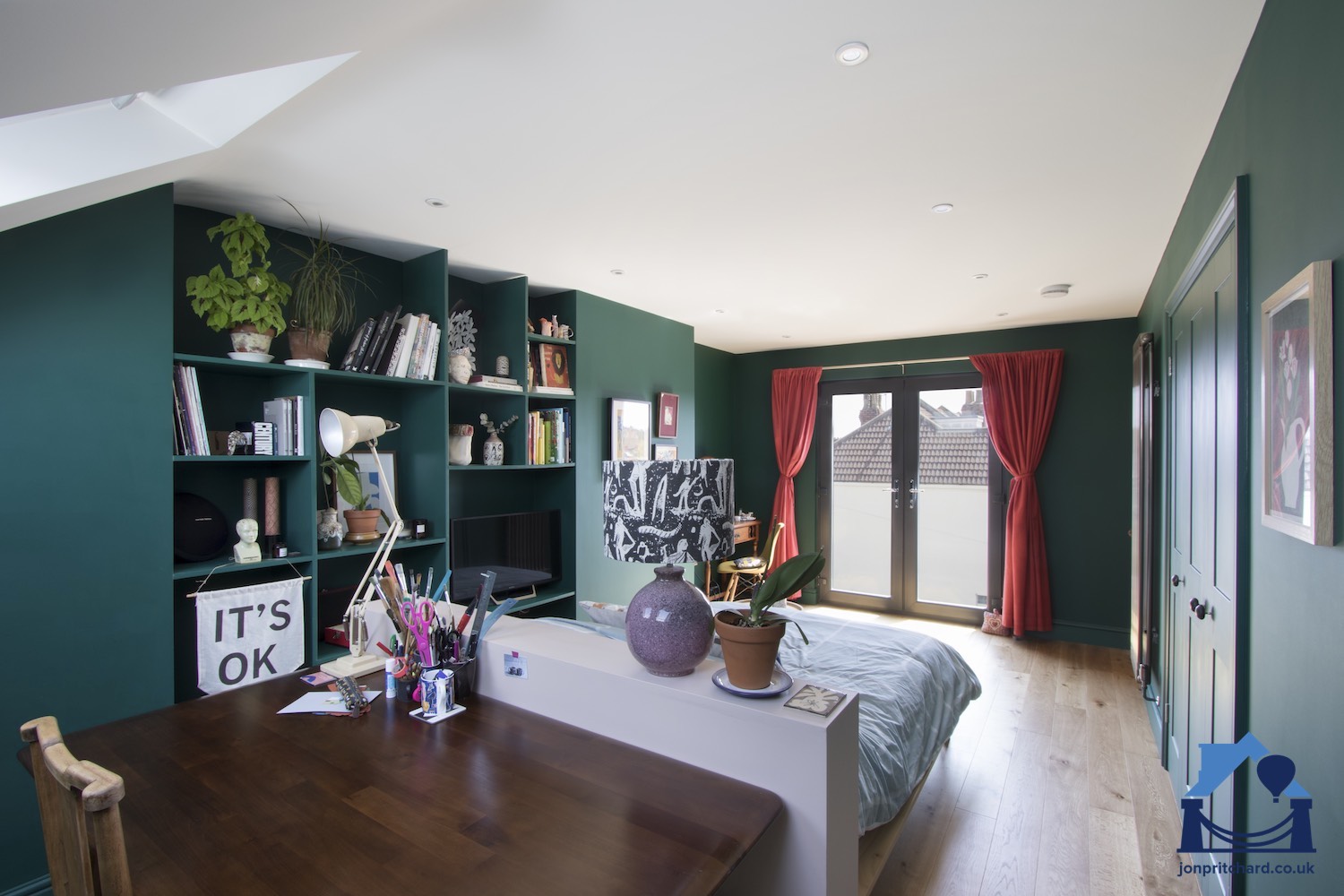 The built-in cupboards we create in our lofts are often a favourite feature. We haven't covered them in this post since we have an article dedicated to them!
Head over to our Gallery pages to see more of each of these 2018 Bristol loft conversions, and more.
If you have any questions or would like more information, please do get in touch.