Cracking to ceilings below your loft conversion – The Facts
Turning your loft from a dusty storage area into a useful part of your home requires some structural reinforcement.  That's why careful calculations and drawings are done early on, and checked before Jon Pritchard start work on your loft conversion. But you still might find there is some cracking to the ceilings below.
Of course your existing upstairs ceilings have never had much in the way of pressure on them, or movement.  Going up every Christmas to get the decorations, or in the summer for a suitcase, doesn't have much effect (unless you slip off the beams and stick a foot though….), but when you undertake a loft conversion, it changes things for you, and for the structure of your home too.
Structural changes above have a natural impact below
Long story short it's very common to find that the structural changes and slight extra burden your loft conversion puts on your upstairs ceilings results in minor cracking to the existing plasterwork, which may need fixing once your loft is completed. The extent of this ceiling cracking often depends on the age of your home.
Jon Pritchard find that, approximately, out of every ten loft conversion projects five will be unaffected, four have some cracking to the ceilings that require filling and re-painting, and one in ten needs  re-plasterboarding and plastering.  Of course there is a cost associated with this, as with all work, so it is something to bare in mind as a possible extra.  We can talk to you about the likelihood of ceiling cracking occurring when we visit your home to provide a quotation. Depending on the extent of work required, Jon Pritchard's plasterers and/or decorators can help, or we can recommend someone.
Older Homes
In Jon Prichard's experience, older houses with lath and plaster type ceilings are more likely to suffer extensive cracking to the ceiling during a loft conversion. If you're considering a converting the loft in an older property with this type of ceiling, you may need to factor in hiring a dry liner to plasterboard and plaster your ceilings.  You can do this later, if you prefer to wait and see whether it's necessary once your loft has been completed.
Ceilings in poor repair
If a ceiling is in a poor state before loft conversion work starts, your build team may find that they have to support the ceiling from below.  If this is the case you'll definitely need to have the celling plasterboarded and plastered once the conversion work is done.  Again, this is something you need to factor in when budgeting your conversion project – it's usually not something a loft conversion team will include in your quotation.  At Jon Pritchard we try to let our customers know if this kind of extra work is going to be necessary, thought it's not always possible to tell what the effect of a conversion will be until the project is underway.
What causes ceiling cracking during a loft conversion, and where?
Cracks may appear on the ceiling of the room(s) directly below your new loft.
When the structural floor isinstalled your loft conversion team are working on top of the existing ceiling joists.  This creates movement in the ceiling below, which can resulting in small cracks.
To create maximum head height in your loft conversion, it's possible that the binders which support the existing ceiling joists may have to be removed in order to install the new structural floor as low as possible. This can also cause some movement in the ceiling below which will result in minor cracking.  Don't worry – existing ceiling joists are strengthened by fixing them via metal straps to the new structural floor, so that the ceiling will then be totally secure and not move further.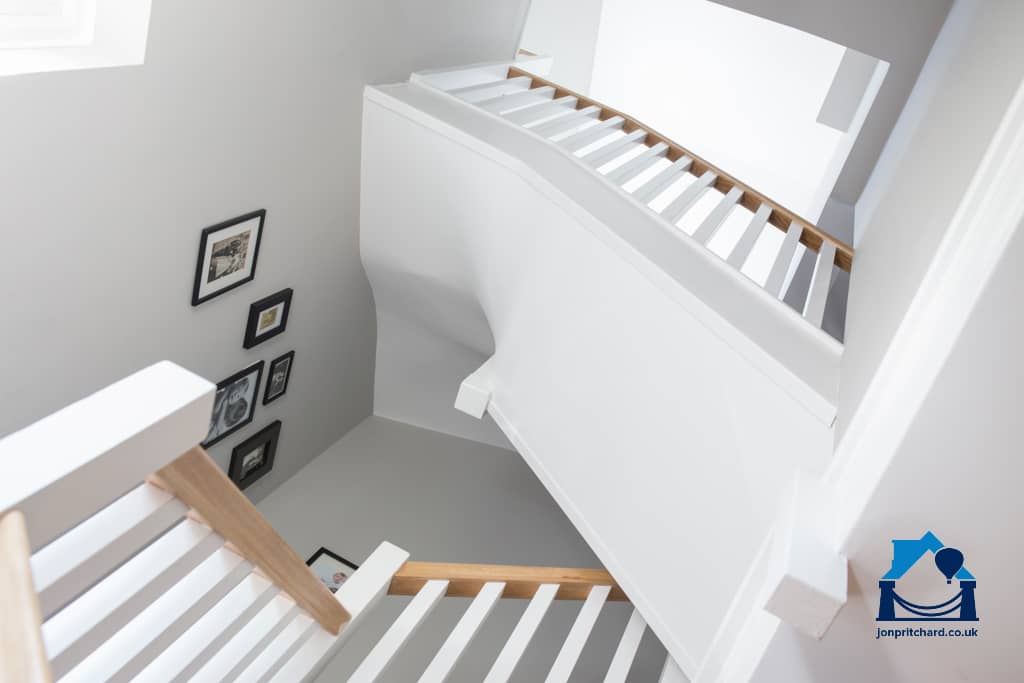 In conclusion
Cracking to the ceiling during a loft conversion project is a common occurrence and not a serious structural concern (assuming you are using Jon Pritchard or another trustworthy loft conversion company). Once your loft conversion has been finished the cracks should not get any worse and you or your decorator can repair them.  In many homes this is a straightforward plaster repair job. In some homes, especially older ones, the work required may be a little more.
Any project needs contingency – don't let the possibility of a few ceiling cracks or the need for a little remedial work here or there put you off. Having your loft converted to become a fully integrated, light and airy new floor to your home is the ultimate goal and is a fantastic way to improve your home.
---
If you found this article useful, you might also like our article on choosing good quality hardware for your home improvements.