Cosy nests and space for guests
Jon Pritchard recently completed a Bristol loft conversion in a semi-detached property, which included a significant remodel of part of the first floor and a full re-roof.  Our customers kindly agreed to allow our photographer into their completed renovations, and talked to us about the whole experience.
Neil is a chartered building surveyor, and he's self-confessed risk averse and very fussy. So if anyone was going to a be a tricky loft conversion customer, it was him!
What were your reasons for wanting to convert your loft?
Neil explained that the idea stemmed from some improvements they wanted to make to the first floor.  The semi-detached house had two double bedrooms and two singles.  One of the singles was used as a study the main bedroom, had a very small ensuite taken out of one corner of the room. They felt it had become very dated and wanted to make some changes, including ripping out the small ensuite and knocking through and turning one of the single bedrooms into their dream ensuite instead.
"But then we would have only had three bedrooms, which would have compromised our ability to welcome guests and devalued the house," says Neil, "we regularly have family to stay…"
At the time Neil was also concerned about the poor state of their roof.  He noted that their existing staircase lent itself perfectly to being extended up into the loft – by converting the loft they could have their remodelled first floor, keep four bedrooms and gain another bathroom to boot.  The loft conversion project was born.
What rooms did you hope to achieve in your loft?
"It was always going to be a bedroom and bathroom. Everyone said, even the designer – add a dressing room… create a master suite."   But Neil and his husband never planned to move to the top floor "We lived in a top floor flat in Clifton for five years – I'm happy not to climb too many flights of stairs!"  So they stuck to the plan for a large guest bedroom with ensuite shower room in the loft.
Why did you choose Jon Pritchard for your loft conversion?
"Our neighbour opposite is good friends with Jon and his family and recommended him."
Neil looked at Jon Pritchard's loft conversions website, met Jon and felt very positive about him and his company.  Being practical, they also got a quote from a Bath firm. Not only did Jon Pritchard's quote come in competitively, they also liked that Jon Pritchard is a Bristol firm and has a great reputation. Having their loft conversion company nearby gave them confidence and comfort.
Risk Averse
What did Jon Pritchard have over their competition that made you choose them?
"It was the broad range of work they've done, and the website had lots of photos of houses similar to ours,  so I picked up on certain things, design elements that I liked… They are a local Bristol firm with a lot of directly employed labour – lots of aspects that gave me peace of mind. I'm very risk averse!"
Did your ideas for your loft change at all after engaging Jon Pritchard? If so, why?
"Very little. I promised my husband I wouldn't change the design too much, or get carried away with extras and I didn't! We added a Velux, but nothing major."
How did you feel about the timescale for your loft conversion?
"It was better than I thought it would be to be honest. I wanted it to start in the late summer. It was a bit later but in the end it worked out really well with other things we had going on.
My only stipulation was that we finished before Christmas as we had a house full of family descending, which it did. And that since roof works were being done late autumn, that no water came it. And it didn't."
Did you have any issues, and if so, how did Jon Pritchard deal with them?
"We had some lovely light fittings in the hall – they got damaged unfortunately but Jon Pritchard were very good about it and replaced them.
I was a bit frustrated that the roof took a while to get done. Jon wanted to use a particular roofer who is the best in the area, and he was well worth waiting for."  Neil admits that his slight obsession with the new roof has quite a lot to do with his profession. "My roof is very sexy!" he gushes, "It's beautiful. All the neighbours think it looks fantastic."
A great team
"Jon's workforce are much younger than me, but they are nice guys with a good personality, and a good can-do attitude."
Neil still keeps in contact with his project manager, and was so pleased with the job he did that he treated him to a voucher for a meal at The Ivy with his girlfriend. That says an awful lot about customer satisfaction.
"I'm fussy and finicky!" Neil admits, "Our project manager always had a solution to a problem. I felt he genuinely cared about his work, and about looking after his client. He was just very pleasant to have around the house"
Neil owns some quirky quirky life size fibreglass sheep (garden ornaments), and he had an ongoing practical joke with the team and would hide the sheep around the place.  "One morning they climbed up the scaffold and found two sheep staring at them!"
Have you moved into the loft? If so – how has it changed your lifestyle?
"We've had guests, They've loved it. We even had a family of four sleep up there."
Neil and his husband are using the space when they don't have guests too.
"I used it for yoga during lockdown. I sit up there some evenings watching the sun go down with a glass of wine. We have weights up there, watch Netflix… It's another third added onto the house."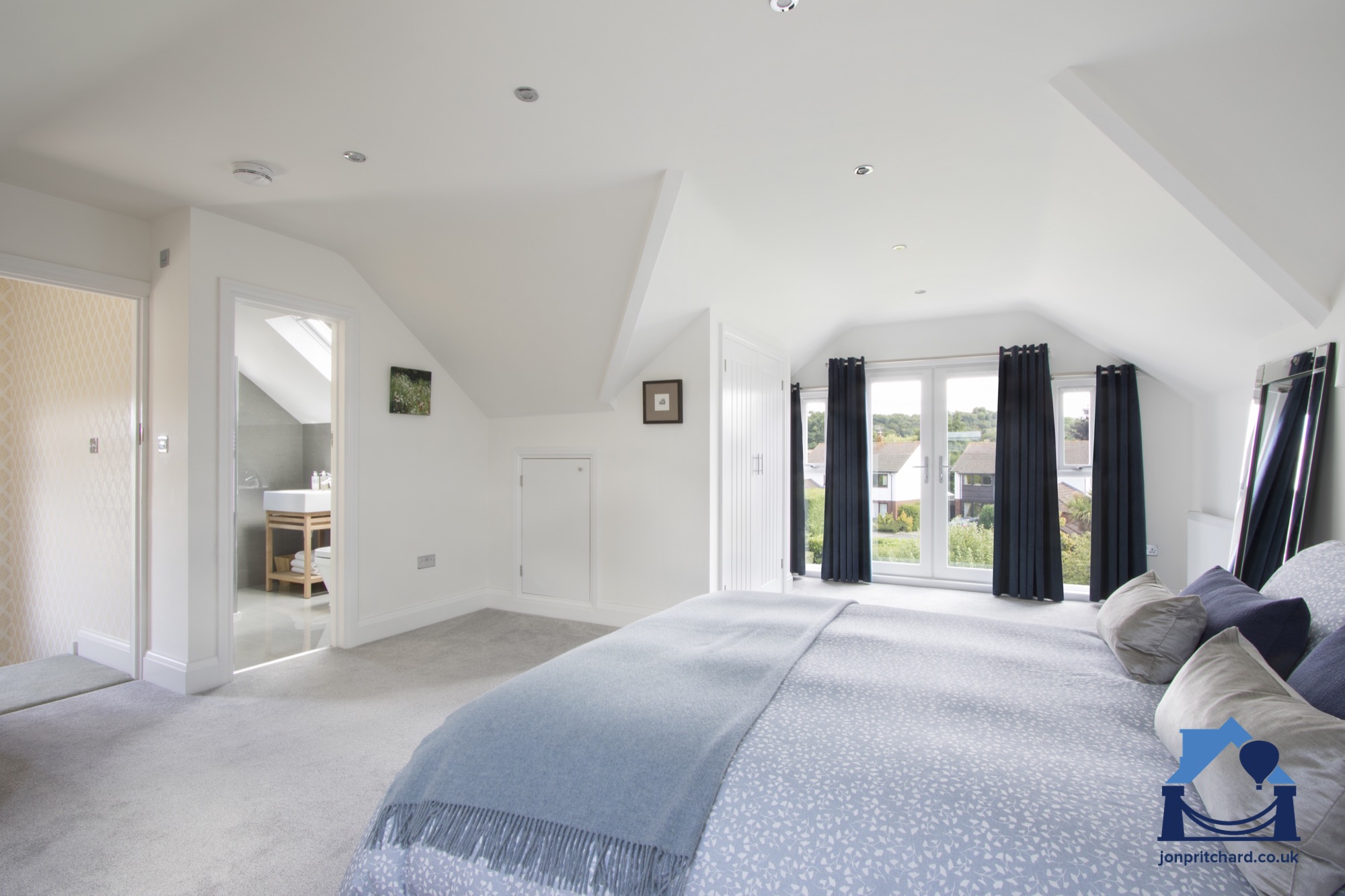 Loft conversion specialists
What would you say to someone thinking about having a loft conversion?
"Don't go anywhere else – just use Jon Pritchard. We have referred Jon to two or three people this year already. I'm really grateful to Jon and his company for what they've done for us. Overjoyed.
They aren't the most expensive. They aren't the cheapest. But loft conversions is all they do. They are loft specialists. I'd never go to a normal builder who says they can do lofts."
Any further comments about Jon Pritchard?
"It took some getting used to but I did like their app-based communication system."
Jon Pritchard uses an enterprise resource planning software that includes a secure, private website for each customer. There is a linked mobile phone app, and everything to do with each project is managed via the software through messages and electronic approvals. This means nothing gets lost or overlooked and any changes to plans or specifications is recorded and approved by both sides. For more information about the personal website, read this blog post, and more about the app is here.
Neil says of the app, "it did mean I could note things as I thought of them … you can send a message when you think of something in the middle of the night!"
Neil was full of praise for the team they had on site. "I just liked all the guys, they are all lovely."
A good experience
And about the experience as a whole, Neil was very realistic in his expectations;
"I told Jon from day one that due to nature of my job I do notice everything, It was a dirty dusty experience – you can't stop that, but it was a good experience."

Visit our gallery to see all the images of this loft conversion – Semi Detached "Spacious with views, and an improved first floor too!"
Read more about the full loft conversion service you get when you sign up with Jon Pritchard for your Bristol loft conversion.