Add value with a working-from-home office
In the UK's June lockdown,  demand the desire for home office space rose from 8% to 27%.  With a second lockdown underway, it's safe to say more and more of us are feeling the need for a dedicated home office space. While we might have started out happily working at the kitchen bar or dining table, when working at home becomes the norm there's a lot to be said for creating  distinct work / home divide.
Estate agents are finding that homes with an office are selling much faster at the moment.A home office, or study space, is a valuable addition to your home, and means you can still commute to work, and home again at the end of the day, even if that just means walking into a different room or climbing some stairs!
Your mental health working at home
Psychologists have found that the self-control needed to focus on work when remote working is incredibly draining.
"When working from home can mean adapting to new technologies, changing forms of communication, resisting distractions from family members, pets, or mundane household activities, or keeping up motivation when the sun is shining outside. Overcoming these demands and engaging in work requires self control, which in turn depletes mental energy levels." (Wladislaw Rivkin Lecturer in Work and Organisational Psychology, Aston University)
To counter that depletion, we need to be able to detach from work and kick back,
"While the simple act of leaving the office after work immediately helps detachment, this clearly becomes much more difficult when working from home. So it is vitally important to actively manage boundaries between work and non-work time to allow for that kind of detachment."
Where can you find space for a home office?
No room for a separate office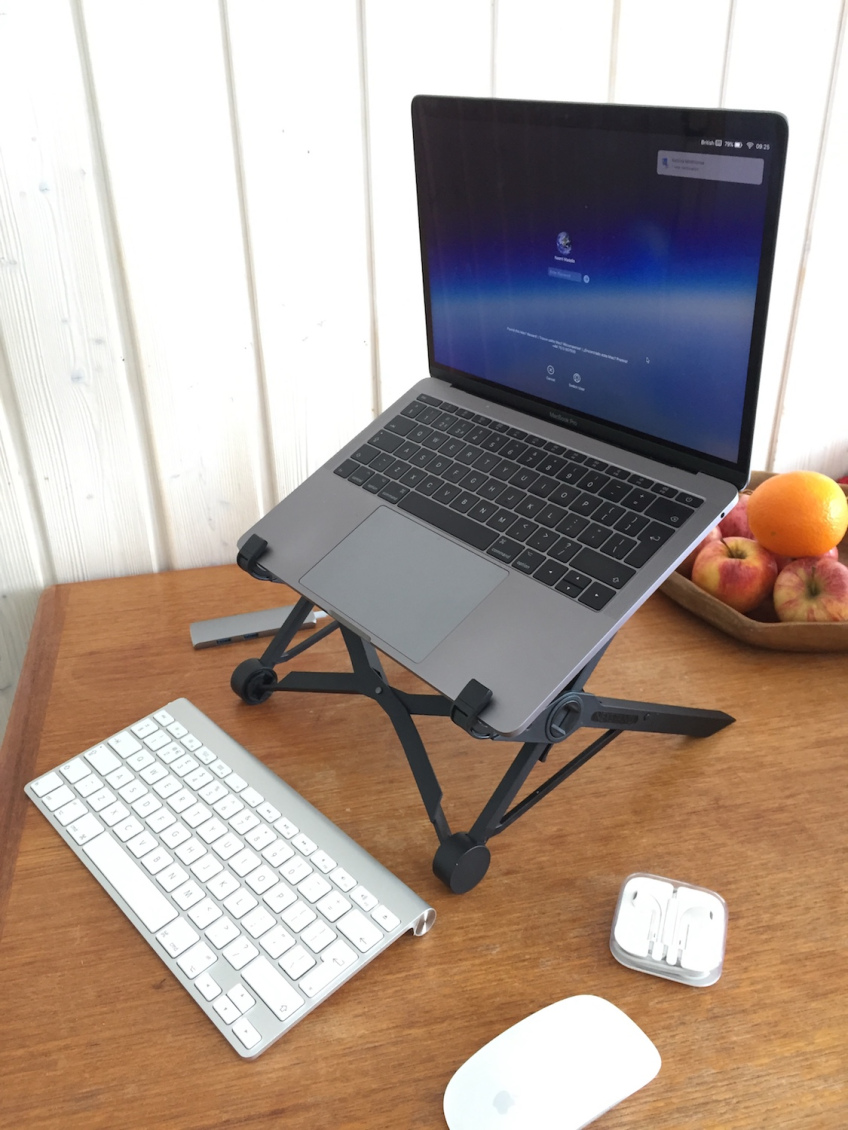 If you don't have a room you can dedicate to a home office, find a space and get into a routine. Buy a good stand for your laptop, a wireless keyboard and mouse.  Create a ritual where you set up your office space at the same time each day, and close it all down and put it away a the end of working time.
We've used these excellent folding laptop stands and recommend them for useability and quality.
Use physical symbols
You could have a jar of flowers or another item that you remove from the table when you turn it into your office, and put back when you reclaim the space for down time. Physical items that symbolise the change of space from home to office and back again can be extremely affective on your mindset.
The bottom line is – where there's a will, there's a way. Even without extra space you can have a defined and ring-fenced office in your home.
Small office space
If you can find room for a permanent working space on a landing, or to the side of a bedroom or dining room, that's great. Think about whether the sight of your office as you pass by, eat dinner or get ready for bed will affect you. It probably will! Could you invest in a folding room divider to hide it away outside of working hours? Or buy a coloured sheet or attractive throw that you can cover it with?
A 'proper' home office
The ideal solution is a home office in a separate room in your home. It could be an office-come-spare bedroom, or you might be fortunate to find a space in your house that you can turn into a dedicated office space.  Can you can divide a room, or add a partial wall to create a permanent office space off another room?
How about a loft conversion? Turning the unused space in your loft into living space is a great investment. Adding a dedicated office can add more than 8% to the value of your home. Most people who convert the loft choose to add a bathroom or ensuite in the loft as well, which also increases property value.
You don't even have to put your office in the loft when you convert. Perhaps you prefer to be downstairs, or there's a small room on the first floor that would make the perfect office. By converting your loft you free up possibilities to re-purpose any part of the house you want. The loft can become your new master suite, a spare room, student digs with a kitchenette, a new living room. The choice is yours.
Is it worth investing in a home office for Covid-19?
Let's be positive and assume that in the next year thing return to 'normal'. Covid-19 is under control and/or we've found a sustainable way to live with it.  Covid-19 isn't the first pandemic, and it won't be the last. It's pretty safe to assume there will be others, and so having a home office is an insurance policy for the future.
Not to mention that being forced to conduct business at a distance has changed attitudes to home-working across the board. Employees are enjoying less commuting time, employers are realising that there are benefits too.
"Exactly when this [working remotely] experiment will conclude remains to be seen, but the results so far have defied expectations, both in terms of how easily organisations have implemented remote working en masse, and how successfully teams have performed from home. As one CEO told Management Today, a change programme that they would have expected to take six months to prepare for and years to implement was – out of necessity – largely completed within a couple of weeks." managementtoday.co.uk
So pandemics aside, the future holds more working at home, even if the office environment isn't going away completely.
Further benefits to a loft conversion office
For a free consultation and quotation from your Bristol independent loft conversion specialists, get in touch today.

Working from home resources
Download this excellent guide from the British Psychological Society:
Advisory, Conciliation and Arbitration Service:
NHS:

Article sources:
https://www.propertyreporter.co.uk/household/ow-much-could-adding-a-home-office-boost-the-value-of-your-home.html
https://theconversation.com/working-from-home-why-detachment-is-crucial-for-mental-health-135986
https://www.managementtoday.co.uk/psychology-remote-working/food-for-thought/article/1689068
https://www.luxuriousmagazine.com/the-value-a-home-office-adds/
Disclaimer
All links to products or online stores are only our suggestions. We are not affiliated with these companies and don't receive any payments for recommending their products or linking to them.