Uncovering Bristol – Independent and Arty at Room 212
Bristol is a fabulously arty city.  We all love our Banksy fame, but there's a lot more to our artistic credentials than one possibly anonymous artist!
We have art spaces and galleries tucked away all over our vibrant city. If you've spent any reasonable time in Bristol you'll probably have taken a stroll along the eclectic Gloucester Road. Did you know that Gloucester Road has the most independent shops of any street in the UK? You do now!
Room 212 is a is more than an independent art gallery, it's also a social hub for local artists and the community. And it's  an important venue on the annual North Bristol Art Trail. When you need art for your home – loft conversion included – it's the perfect place to start your search.
We had a chat with Sarah Thorpe who owns and runs Room 212 to find out more.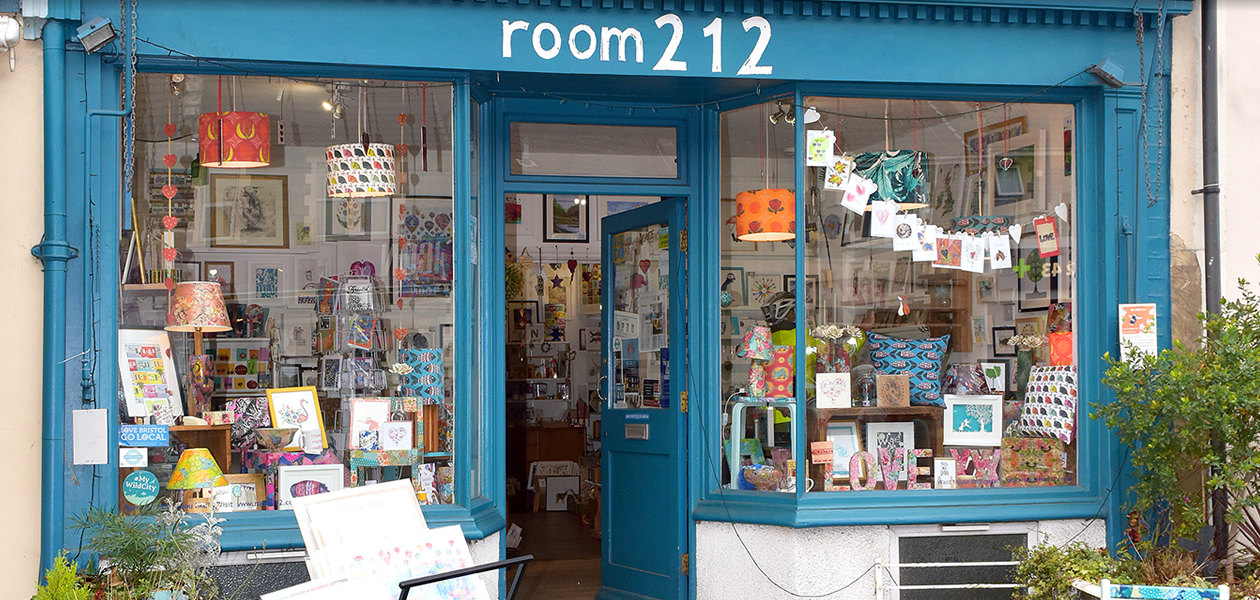 What drew you to Bristol?
I grew up in London and worked in the music business there.  When I had my first child I moved to Tobago, where I built a wooden house by the sea and a few guesthouses. Returning to the UK I decided that Bristol had the same creative vibe as London, but without the stress of a major city.
Tell us about your involvement in the Bristol art scene
Nine years ago I began to help to run the North Bristol Art Trail, which showcases artwork by over a hundred Bristol artists during the last weekend of November.  I thought it would be great to offer this artwork all year round and so opened up Room 212 on Gloucester Road two years later.
How does Room 212 work for the artists it represents?
Room 212 takes work on sale or return and is partly run by the artists themselves. A couple of years ago I also opened an art bar called Alchemy 198 which offered room for bigger art exhibitions.  However, during Covid 19 lockdown I decided to slow things down a little. I passed the bar on to new ownership and had a big revamp at Room 212.
That sounds exciting! What can we expect to find?
The back area is now much more gallery style, with different wall areas dedicated to our most popular Bristol artists.  We also put on exhibitions with a local or seasonal theme.
Any upcoming art exhibitions?
Yes! From October 10th – 23rd there will be a photography exhibition of Bristol's Synchronised Swimmers by award winning UWE graduate Eva Watkins, and then in November Jenny Urquhart will be showing her paintings as part of the North Bristol Art Trail
How can people keep in touch to find out what's new at Room 212?
To view our artists and for news on upcoming exhibitions go to www.room212.co.uk
We also have a printing company, 212 Productions, which means we can make prints or canvas reproductions of artwork at any size. Customers can browse either in store on Gloucester Road or online.
Vote with your feet!
For my money, the best way to keep in touch with Room 212 and the Bristol art scene is to vote with your feet! The bus can be handy too… Get yourself down to Gloucester Road, drop into Room 212 and support the Bristol art scene, find some dynamic local art for your loft conversion and more, and perhaps support a few of Bristol's other independent stores and cafés while you're in the area!

Jon Prichard are also an independent Bristol business. We're Bristol people through and through, and our proud to be an employer in our area and serve Bristol people, improving their homes and lifestyles.  If you need more living space, a home office, a quiet space to relax – get in touch. Your loft may be the secret space of your dreams!