One loft conversion customer's experience with Jon Pritchard
Kevin Percival is a recently retired Civil Engineer. He decided that retirement was the time to add some value to the family house in Bristol, and take advantage of his daughter's departure on gap year travelling to get stuck into converting the loft. Project managing the whole thing was something that, with his background, he relished the idea of.
We talked to him about his experience, particularly using the cloud-based customer project management portal powered by 'Co-Construct'. Jon Pritchard's customers can access a personal, private website and keep in touch with what's happening on their loft build, as well as communicate with the team.
Why choose Jon Pritchard?
Kevin says: "Well, Jon himself to be quite honest! Having been contracting most of my working life I Iike to think I can read people. A friend of mine had a loft done two years ago & so, with some additional other supply comparisons, I knew the sort of cost I was in for and I'd seen the quality of work and attitude of the guys on site.  Then I met Jon and didn't fell the need look further!"
"The other part of using Jon is he's in constant demand. He doesn't seem to want to grow exponentially – he's kept the business to a level which he can control."  Kevin explained that due to Jon Pritchard's popularity they had a bit of a wait for the build to start, but they didn't mind as the service and quality was worth waiting for.
About the conversion
The Percivals wanted to create a loft bedroom with lots of really good storage space, and add an ensuite shower room. "I fiddled around with the plan to get some standing room storage under the eaves as well," says Kevin. Getting light in was also really important, so they worked with the designer to fit in the largest windows possible.
How did the personal project website help and what did you use it for?
"I got access to the website about two weeks before the start of the build, which was perfectly adequate." Kevin found he looked at the site about every other day to help project manage the loft conversion, using the messaging function to communicate with Nick, Project Coordinator, and later the build team, to make decisions and upload photos.
Finances
Kevin particularly found the 'Variations' aspect of Jon Pritchard's online tool helpful.  This function assists customers with selections that might be finalised closer to the build start date, including a very clear cost or credit implication to your project. "It helps you define what you want before you pay for it," he says. With an electronic sign-off process that has to be completed by both the customer and a Jon Pritchard representative, it means it's all 100% clear – no surprises and nothing gets forgotten.
Photographs
Both sides of the party can upload images of the loft conversion progress to the project management site. Kevin found this really helpful too. If he had points or questions about specific items he uploaded a photo to refer to them. "I think my previous background in contract management was a bit unfortunate for the guys in terms of the details and volume of photographs I uploaded! But if you set out beforehand your expectation, that goes a long way!" Kevin is full of praise for the team who undertook his loft conversion, as well as the Jon Pritchard team in general.
Praise
"It's people that make projects successful, not just processes," he says. "Having been in heavy construction all my working life where self supervision and motivation plus attention to detail and quality were not widely on offer, it was good to see those qualities being displayed in abundance… This whole job was made easier by the constant level of communication of the process, so that early decisions could be made to avoid delays & cost."
Was there anything extra it would have been helpful to be able to see or do?
Kevin felt that the level of detail available though the project management website was about right. While there were details he would been interested to see, he admits that his background and the fact that he is recently retired probably made him a bit unusual on that front!  
Bathroomware, carpets and more!
The Percivals purchased their loft ensuite kit from Jon Pritchard. Being a thorough person, of course Kevin did some cost comparisons, and found Jon Pritchard's prices to be competitive. He also liked the 'one stop shop' aspect of getting the bathroomware through the company, and the fact that it arrived the very next day. Kevin also used Jon Pritchard's partner decorator, and ordered all their carpets through the loft conversions company as well.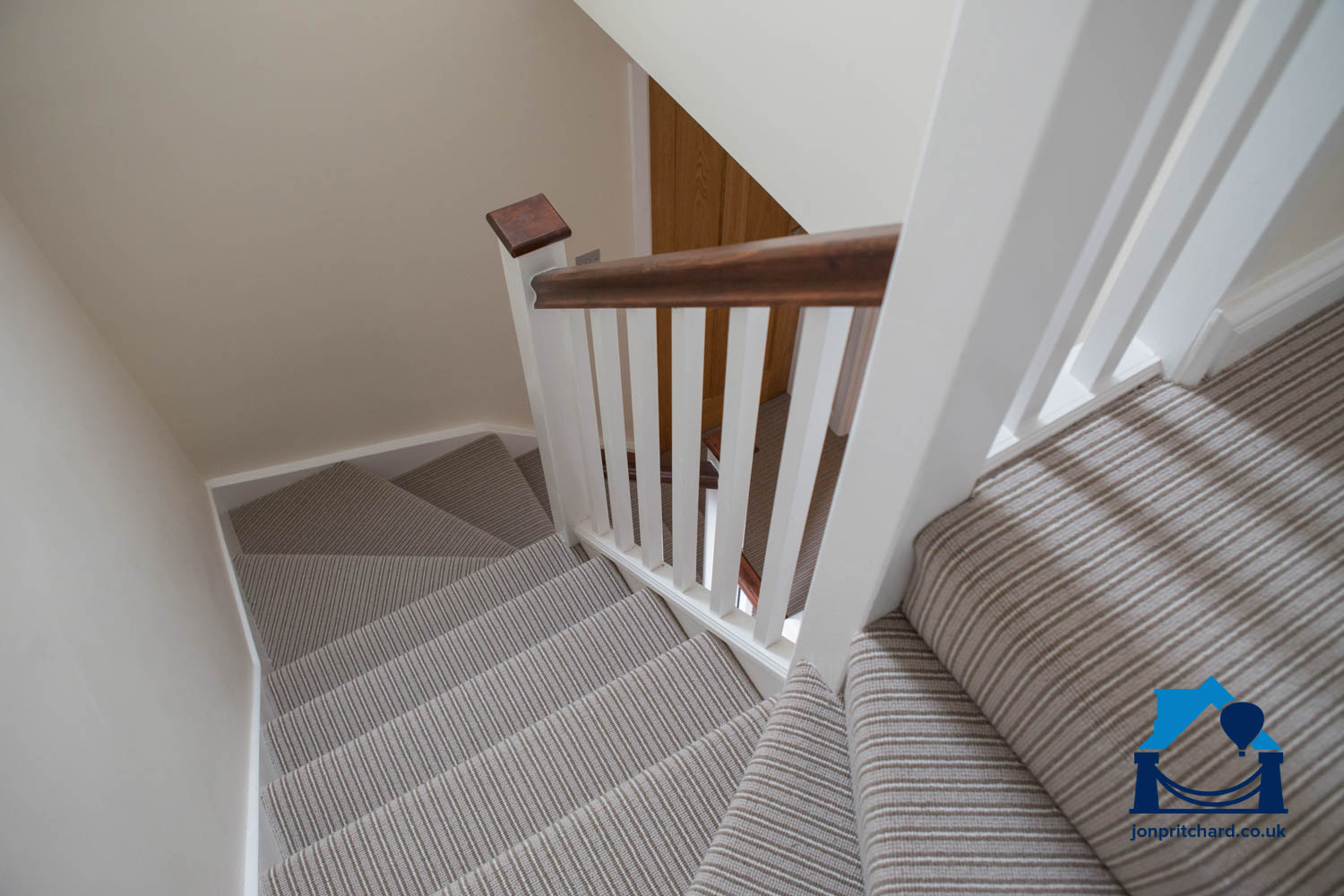 What would you say to someone thinking about having a loft conversion?
Define your requirement before you contact anyone. What's it got to do? What's it's purpose?
Do you have any other comments about Jon Pritchard, Including materials supplied, staff, work ethic etc?
"I'm a bit disappointed he had to play for Bath prior to Bristol! No seriously, on every front the build was done to the highest standard."
(If you didn't know, company founder, Jon, had a previous career as a professional rugby player…)
---
Find out more about Jon Pritchard's customer website including a short video.
Read more about the customer personal project website on our blog.
And find out about the accompanying mobile app.