"JP offers a very fair price"
I have never been so impressed by the workflow of an organisation from start to finish…

Do not be put off by the branding – JP … offers a very fair price.

The support has been fantastic post-build and if I were to ever do this again I would be straight on the phone to JP!

Rob K on our Facebook Reviews Page
We thought we'd chat a little about the reasons for choosing a loft conversion specialist, like Jon Pritchard, rather than another general builder. While a 'one man band' might promise to be cheaper, and they might be, there is more to consider than cost.  Time, expertise, troubleshooting, known associates and contacts to support the project, trusted suppliers…
This article focusses on where Jon Pritchard adds value to your loft conversion project, in ways that general builders simply can't.
Jon Pritchard vs A.N. Other builder
Entry level into the construction industry is very easy, which means it's important to look out for builders who aren't experienced, particularly with specific, specialist work like loft conversions. Your local guy might give you a quote that is a little lower than ours (it won't be much) – but at what cost?
Our Bristol customers regularly praise our loft conversion build teams – they love the fact that they have a dedicated team and see the same faces every day. They trust our teams, and form a rapport with them.
Having the same youthful and continually cheery construction team on site made a world of difference to the whole process.
We had the same builders on site every day at 8am on the dot! They were polite, hard-working, and very tidy! 
The guys working on the house were a delight, tidy, polite and nice to have around and the finished result is amazing. 
Benefit of hindsight
A few people move regularly and enjoy 'doing up' and improving properties. They might have experience of more than one Bristol builder, even more than one Bristol loft conversion company. But most of us stay put for longer periods of time, and a loft conversion is likely to be a once-in-a-lifetime project. We don't have the benefit of being able to learn by our mistakes! That's why Jon Pritchard's accreditations, association and customer testimonials are so important to us.  They all help you to know that by choosing Jon Pritchard you'll be in good hands.
The old adage 'you get what you pay for' can be dishearteningly true when you cut costs in building. Jon Pritchard give outstanding value for money – we have years of specialist loft conversions experience in the Bristol area, and work with established and highly qualified local partners…
The standard of work/craftsmanship was superb and couldn't be faulted. Communication & keeping us informed was excellent, especially with their App they provided. When we did have a problem they acted upon it straight away without any fuss or argument, which was refreshing in today's world. 

Tim D (Facebook)

What is 'value'?
Well, it's a noun and a verb – and for Jon Pritchard both uses are important.
Value = principles or standards of behaviour
At Jon Pritchard we put an emphasis on our company core values. These aren't values that are imposed from the top down – they have come out of discussions with our office staff and our build teams.  We wanted to make sure that we are all on the same page, working properly as a team.
Our core values include respect, honesty, hard work, and humility.
Value =  importance, worth, or benefit
We're an independent, family-run company and proud of it. We're proud of what we've achieved and of what we offer.  In 2017 we completely re-designed our website, and engaged a professional photographer who we work with regularly to produce beautiful photographs of some of our loft conversions.  This means we can properly show prospective customers the standard and quality of work that we do. And why would we want poor photos of work we're proud of?!
Not all companies understand the value of professional photography, or even a good website. Some sites will 'make do' with amateur photos, others use stock photos – not images of their own work at all.
We care about customer care. Your time is valuable and we don't want to waste it. Your opinion is valuable too – most of our business comes via word-of-mouth.
Value = the worth of something in money
We know we give our customers good value for money. And our customers often praise the value they feel they get in the reviews they leave us on our Which? Trusted Trader page, and on Facebook.
…they are very clearly putting their clients above everything.

You will see from their quotation process compared to others that they have applied a little more science to what they do.
Read on for more about Jon Pritchard and the value of the great quote we'll give you for your loft conversion.
Jon Pritchard – our hidden value
We know lofts
Jon, Adrian and all the senior team at Jon Pritchard add value with all of the finer design details we have learnt over the years on loft conversions in and around Bristol. These all add up to give you a much better final result. We also have experience with dealing with party wall surveyors and will help you along in this potentially costly and time-consuming process.  As well as speeding the party wall process up as much as we can, our involvement and experience also helps keep stress away from you.
Our architects know lofts
We have a long-standing association with a Bristol design company so all regulations and planning requirements are adhered to and passed with certificates, party wall advice and discounted rates.
One of the major benefits is that having worked together for years, our designer partners understand loft conversions a lot better than many other architects – and they, like us, know Bristol homes and lofts!  We have a great working relationship and liaise to ensure that loft conversions designs are buildable. That might sound odd – but we often have prospective customers who come to us with designs for their desired loft already drawn up by another architect. We've found that if we work from those designs, problems emerge. Often problems that  create delays. This is because while the designer was well qualified and has produced a beautiful design and excellent drawings, 'on the ground' (i.e. in the loft) those designs are often not practically possible requiring time and effort to find a work around, order different materials, even change the loft layout. That's disappointing for you, and frustrating for us – we want to build what you are expecting!
Working with our associate designers and liaising throughout the design process means that we all sign off on the drawings. The architect knows it's up to scratch aesthetically and legally, you know it's what you want, and we know it's buildable.  No disappointments, no delays.
Quality materials
We source all our building materials and hardware from trusted Bristol suppliers. We give you the chance to select things like windows, interior doors and stairs from partner companies we trust. And we also supply high quality bathrooms and carpets at a discounted price, with swift and efficient delivery lead-time and return procedures.
Bathrooms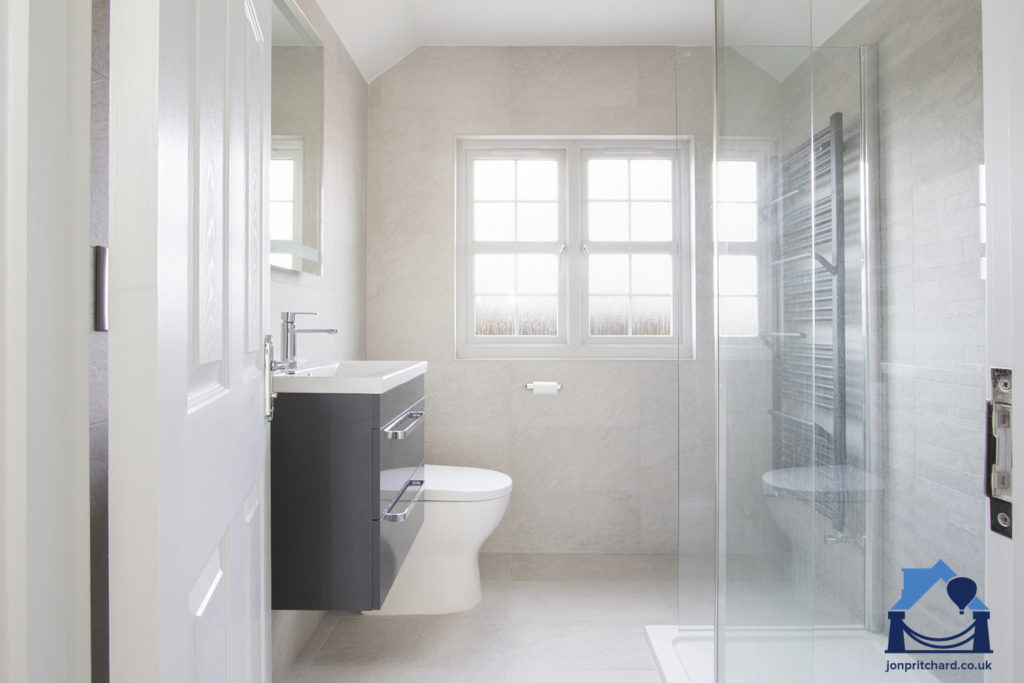 Most people who decide on a loft conversion include an ensuite shower room, or a full bathroom. Jon Pritchard have our own bathroom furniture with delivery in 2 days direct to your home. That means that if there are last-minute on-site decisions to be made, or changes, it's no problem.
For example, until we are in your loft and have constructed your internal walls, it's not always possible to know exactly how much space there will be for a shower. You might have thought you had space only for a small shower tray, but in fact there's space for a larger one.  With our two-day order lead time, and easy returns, you can change your mind at the last minute to take advantage of this kind of eventuality. Smaller, one-man-band builders can't offer this kind of service.  These seemingly small hiccups can end up causing stress for you, disharmony between you and your builder, and delays to your project. All reasons why Jon Pritchard sourced a quality range of bathroomware, with styles, colours and sizes to suit all homes. We have a tiles brochure too – with the same order and return timescale.
Carpets
We've also teamed up with a British carpet manufacturer. Our partner carpet fitter can visit you with samples to help you choose, and book in your carpet fitting to happen as soon as your loft is finished and decorating completed.  Does your local builder offer the same service?
We saved for years and years to be able to do it and hoped you would do a good job as we've been a bit unlucky with previous 'professionals' …Your team were fantastic, what an amazingly talented group of trades folk you're able to call on in the knowledge that they'll do a first class job…Thank you once again for all your effort, integrity and professionalism.

Dave S, Facebook

Further peace of mind working with Jon Pritchard
You also benefit from Jon Pritchard being one of the very few Certified Velux Installers in the Bristol area as well as our other industry accreditations.
As far as we know we are also the only Bristol loft conversions specialists, if not home improvement specialists, who give their customers access to a private, secure project website AND smartphone app. Being able to keep track of project progress, message team members direct, see and post photos, approve changes including any cost implications – and more… Is that worth paying a little extra for too?
All the things we've noted here are things that set Jon Pritchard aside. They are all things that give you excellent value for the fair price you'll pay for your beautiful new loft and improved home.
We made numerous minor changes to the design … we talked through the options and then they just got on with it without any quibbles… Jon Pritchard Ltd has an excellent local reputation that will only be enhanced further by word of mouth from us.

They completed the project on time, addressed any issues as soon as they arose, and the standard of work was excellent. The new bedroom and ensuite have completely changed our home and we can't thank them enough. We highly recommend them.

We had a terrific experience with Jon, Adrian, their in-house trades as well as others. They were middle of our three quotes and we're so pleased we worked with them.