Six Great Cocktails for your Summer Loft Party
Lofts are a great place to hang out – just check the internet for 'attic bar', 'loft bar' 'loft restaurant' and you'll soon realise that up in the rafters is where the 'in' set are!
To these ends we've put together a short list of some delicious summery cocktails for your loft warming – or any other excuse you might find to throw the windows open and enjoy your top floor.
Coming soon – our carefully chosen list of loft-themed album for some background music too (or even to dance to as the evening wears on)!
1/ Summer Punch
Mixing up a punch before the party kicks off means you can relax for a bit, while your guests and you enjoy a drink or two and you work out who you're going to station at the bar for the next round (there's always a guest or two with hidden cocktail skills…)
For a tad more oomph and a celebratory spin, swap the sparkling water for champagne or sparkling wine.
You'll need a largish punch bowl and ladle to serve.
(We love looking on Etsy for stylish vintage finds, or Butterfly Lane is a great place to look for stylish, affordable glassware too.)
• 125ml lemon juice
• 50g caster sugar
• 250ml elderflower liqueur (or another mild liqueur of your choice)
• 250ml vodka
• 500ml apple juice
• 125ml sparkling water or champagne
• plenty of ice
• fresh summer herbs (try lemon verbena, mint and basil, or lemon basil)
• slices of fresh lemon / orange / lime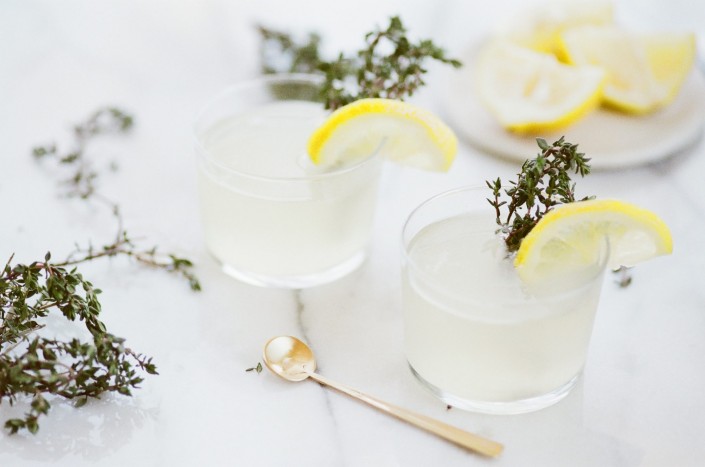 In a smaller bowl, mix the lemon juice and sugar until the sugar dissolves.
Tear or lightly chop herbs, if wanted, and add half to the sugar mix. Leave for ten to thirty minutes to infuse.
Transfer into punch bowl, add the liquid ingredients, fill to the top with ice and stir gently. Serve immediately, with the rest of the herbs and fruit slices, if you like.
2/ Alcohol free slushy Watermelon and Strawberry cocktail
Remember to start prep on this the day before – your watermelon needs some time in the freezer to make it slushy-ready.
• 1 small watermelon
• 225g punnet of ripe strawberries, tops cut off
• juice of 2 limes
The day before
Cut the watermelon into chunks and remove skin and seeds. Place half the watermelon wedges, spread out, into a large freezable bag then pop in the freezer for a few hours or overnight
Just before serving
Put the frozen watermelon with the rest of the watermelon, strawberries and lime juice in a blender or food processer and blitz until smooth and slushy. Pour into glasses and sip through a straw.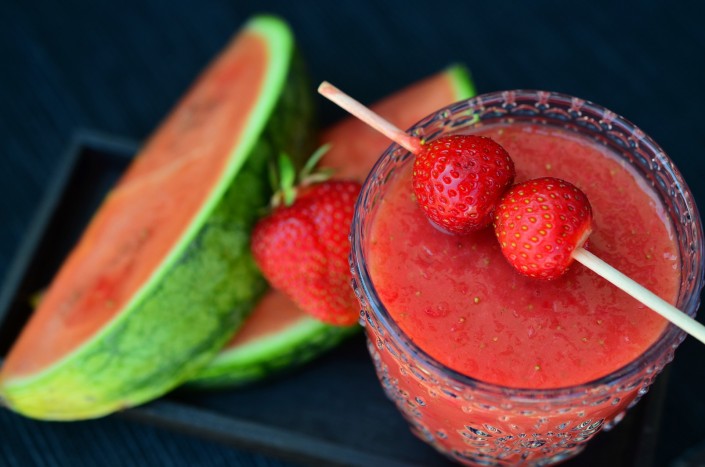 Try to get paper straws rather then plastic – you can put them in the recycling when used. We like these retro striped ones, or how about these green bamboo styled paper straws? Try ebay for exotic novelty paper party straws with fruits and flamingoes, or your local 'everything' shop.
3/ Wembley
A good solid British cocktail that was popular in London in the 1920s.  And it's dead easy!
1oz / 30ml Scotch
1oz / 30ml Dry Vermouth
1oz / 30ml Pineapple Juice
Pour all ingredients into a cocktail shaker with plenty of ice, transfer to a prepared cocktail glass.
4/ Manhattan Skyscraper
Your loft conversion may not quite be at the top of a skyscraper, but this classic tall cocktail is a lovely refreshing drink to take your time over while you enjoy your new views. Plus you can easily make multiple servings at once, so it's great for parties and gatherings.
1 ½ oz / 45ml bourbon whiskey
½ oz / 15ml sweet red vermouth
3 – 8 oz / 90 – 240ml dry ginger ale
Fresh orange peel
1 cocktail cherry
Fill glass with ¾ ice. Run orange peel around rim. Pour bourbon then red vermouth in the glass over the ice then stir. Twist peel into glass, then spike the twisted peel and cherry on a tooth pick and throw into glass. Pour ginger ale according to taste/glass size. Stir, then pull the garnish back up so it sits on top of the ice. Serve
Tip: If you plan to serve this at a party, prepare twisted peel & cherries on cocktail sticks in advance & store in a sealed container in the 'fridge.
5/ Bee's Knees
It seemed appropriate to include a bee-themed cocktail in our summer loft conversion cocktail list.
This Prohibition-era recipe is a divine combination of gin and honey, and another super simple one to mix.
INGREDIENTS
• 50ml gin
• 10ml runny honey (use the best you can, its flavour will shine)
• 5ml water
• 15ml fresh lemon juice
METHOD
Stir the honey into the water until dissolved to make a syrup. Pour into a cocktail shaker with the gin, lemon juice and a couple of ice cubes. Shake and strain into a prepared cocktail glass.

6/ Bramble
What could be more British than brambles?!
While this is great for brambling season, if you're a keen blackberrier you'll probably have a bag of frozen ones lurking somewhere in your freezer – and this is the perfect way to use some of them up.
INGREDIENTS
• 40ml gin
• 10ml sugar syrup
• 15ml crème de mur (blackberry liqueur)
• 15ml lemon or lime juice
• Blackberries to garnish
Pour all the liquid ingredients into a chunky tumbler half filled with ice and frozen blackberries if you have them and stir gently. Garnish with more blackberries or a few fresh ones. Enjoy in your Jon Pritchard loft conversion!
---
Still thinking about having your loft converted? Jon Pritchard are Bristol loft conversions specialists. Contact us today to discuss your ideas, and for a free consultation and quote.