Published on: 3rd December 2013
Last modified on: 6th March 2018
Get Creative With Your Loft Conversion Ideas
A loft conversion doesn't just have to be about adding an extra bedroom or bathroom to your house. A large, isolated room, secluded away from the rest of the building, can give you a real sense of escapism from the manic pace of modern day life. Depending on what you want to gain from that extra space, it can make the ideal setting for work, play or relaxation too.
We've included a selection of our favourite loft conversion ideas for inspiration: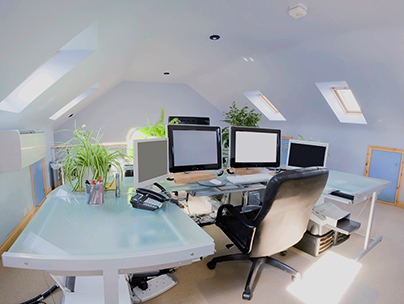 1. Home Office
When you consider the cost of renting or buying office space, turning your loft conversion into a home office can make real financial sense for those running a business. Having your work zone separated at the top of the house, rather than using a spare bedroom or corner of the living room, can mean it's easier to concentrate, with less chance of distraction. Perhaps the best thing about this idea is the stress-free nature of your new daily commute; there's no traffic jams, late buses or delayed trains here.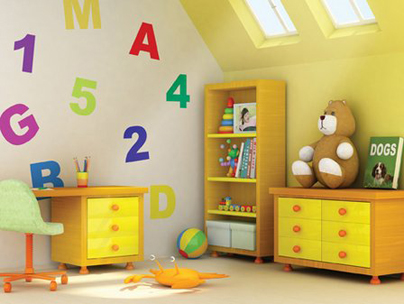 2. Children's Playroom
Giving the kids their own playroom means happy children, happy parents and a mess free house. This can be a really fun project when it comes to the finishing too; using bold colours and bright furniture is perfect. Why not get them involved in the decorating? Let them choose the colour scheme and the wallpaper, or even give them complete creative control. It's all about fuelling their imagination and creating a place in which they want to spend time. A playroom can also evolve as they get older; you might start out with doll's houses and train sets but it can easily be adapted into a room where teenagers can play computer games, practice a musical instrument, hang out with friends or do their homework.
3. Recording Studio
No need to give up on the rock star dream just yet, especially if you build a studio in your own house. Believe it or not, in many cases, the shape of a converted loft actually lends itself quite well to achieving good acoustics for recording music. Unless you live in a detached property you'll most likely have to install some soundproofing measures, or risk a few angry neighbours, but it's definitely achievable with a relatively low outlay. This is just one example of how you could use the space for pursuing a hobby or interest that should really have it's own dedicated room – a snooker table, an artist's studio, domino stacking…whatever takes your fancy really.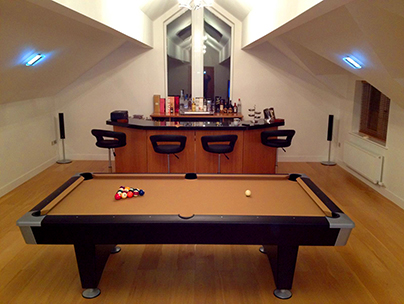 4. Home Bar
Creating an environment for relaxing and socialising is another idea you could explore. Much more than just an expensive spirit cupboard, a home bar like the one above is great for adding a real touch of class to your social occasions, and helping them feel like a real event, as appose to just pulling a bottle of wine out of the fridge. Well away from the frenzy of downstairs, your evenings here can be focussed on conversation and relaxation. Whether you're having a dinner party, hosting a poker night or having the boys round to watch the game, there's no doubt that a room like this can quickly become the centrepiece of your home. Choosing whether or not to carry a pool table up two flights of stairs might require some further consideration!
5. Home Gym
Public gyms certainly aren't for everyone. They can be busy, intimidating or just simply inconvenient when you have a busy life. Even the cost of a basic membership in your local gym can amount to quite a hefty sum when you add it up over the years. The privacy and convenience you could have by installing a home gym in your loft could be a real motivating factor in your quest to get fit or stay in shape. No membership fees, no queues for the machines and the ease of being able workout when you want, and for however long you want, makes this a very attractive proposition. A large choice of gym equipment is readily available so you can tailor the set up to match your exact budget and personal fitness goals. The wooden sauna in this example is a great little extra touch, adding a real dash of luxury and a major feature to both the room and your home.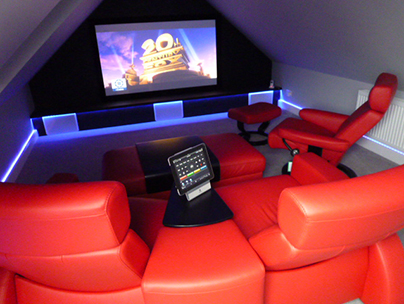 6. Home Cinema
If you love movies or gadgets then this idea may seriously tempt you. The price of top quality home cinema equipment has dropped significantly in recent years and it's now easy to pick up enormous LED screens, or projection systems, for a reasonable price. How far you want to take the cinema experience is up to you – cinema style seats, electric blinds, remote control lighting, an electronic control centre, perhaps even a popcorn machine, could all compliment this space. It could be the new hub of your social life, entertaining friends and neighbours with themed movie nights, or just your own personal hideaway to watch your favourite films over and over again.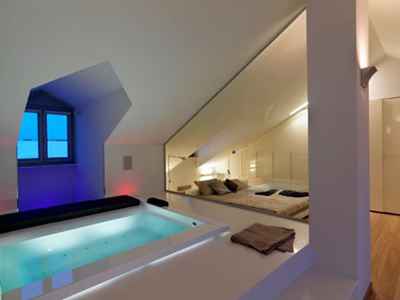 7. Spa Room
Escaping to your own, private spa, on a daily basis, sounds like a luxury only afforded to Hollywood movie stars. In actual fact, with just a little extra investment, it can be easily achieved. The ultimate in home indulgence, this spa room, equipped with hot tub, is a prime example of how loft conversion ideas are really only bound by how creative you can be. There's no doubt a project like this would take some extra planning but the end result is truly staggering and a real safe bet for adding significant value to your property.