Published on: 20th May 2014
Last modified on: 6th March 2018
Do I Need Planning Permission for a Loft Conversion?
Loft conversions have the potential to increase the value of the average home by around £37,000 according to a Nationwide survey, but is gaining planning permission worth the hassle?
Depending on the type of upgrades you wish to make, you might not need planning permission at all due to legislation which came into force in 2011. Under loft conversion permitted development rights, homeowners in England can extend their roof space without planning consent as long as it meets certain conditions.
And although these may be seen as limiting the possibilities when it comes to making upgrades to your home, here at Jon Pritchard we've worked on a large number of projects over the years which haven't needed planning permission. More importantly, said developments have each been turned into great living spaces, as you'll see from the images below.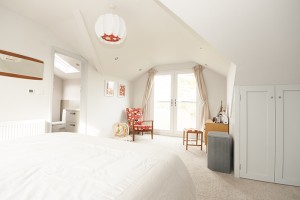 In upgrading this property, we extended the loft space within the measurements permitted, the extension itself was set back far enough from the eaves, and at its highest point it didn't exceed the height of the original roof, so it was considered to be a permitted development under planning regulations.  By working within these parameters we were able to turn this space from an underutilized storage space to a much-needed additional bedroom with ensuite for a growing family.
This development conformed to the same specifications outlined as the previous property. We didn't extend beyond the plane of the existing roof slope and we used building materials matching the original style features of the house. Again this was considered to be a permitted development because of these specifications and the result was a clean, minimalist addition to this beautiful West Country home.
For larger developments than those described above, however, it is likely that you will need to seek planning permission, but instances of these are rare.
The types of conversion where consent must be sought include: dormer loft conversions (where the development extends outwards from the loft in a box shape), mansard loft conversions (when the roof space is significantly increased), and hip to gable conversions (whereby the sloped (hip) side of a roof is modified into a flat (gable) in order to increase space).
While these sorts of conversions are subject to gaining planning consent, they often add the greatest value to a home because they maximise the total volume of space in your property. Moreover, they offer flexibility in terms of creating multipurpose attic spaces.
Overall though, the main thing to be mindful of when considering loft conversion designs is your personal requirements. If you are looking to create an additional child's bedroom for example, it is probably worth considering making the best out of the space you have, whereas if you require something a little different it is important to ensure that you will be happy with the final conversion, even if this means seeking planning permission.
Click here to view more images of our work